Unlike the photography gear that grabs all the media attention, this is a review of the very unsexy and plain looking LumoPro Double Flash Bracket Speedring. Now that my choice of adjectives has probably short circuited your attention span, please allow me to suggest that, although this piece of equipment won't be turning any heads or winning a Red Dot Design Award, it is something that should be on every (speedlight) lighting photographer's short list.
What is the LP739 Double Flash Bracket?
As the name suggests, the LumoPro Double Flash Bracket speedring is a piece of gear that will allow you to use one or two speedlights simultaneously with most studio light softboxes and octaboxes. Nowadays there are many light modifiers and accessories for speedlights, but for those who already own studio softboxes like myself, these adapters are the bee's knees.
Why you might need a LumoPro Double Flash Bracket
I think I'll just tell you why I love these double flash brackets (yeah I purchased two), instead of coming up with scenarios illustrating why you might need them.
For most of my photography work I use between 2 and 4 lights. If I'm in the studio I have no problem setting up my Bowens monolights because a) I don't have to move them far b) they recycle faster c) I can plug them into a power outlet and d) I actually have more modifiers for my big Bowens.
However, whenever I shoot on location and power isn't something I need a lot of, instead of lugging around 3 studio lights, 2 battery packs, heavy duty stands, cables, modifiers etc, which, even when you have a helping hand, ranks pretty high on my PITA scale, I'll only take my softboxes with the LumoPro Double flash brackets attached, a few stands, my LumoPro LP180 and my SB-800s. This lightweight option allows for a much quicker setup / teardown and much less to carry around, which makes a BIG difference to me and that's why I love them. Of course there are occasions when the big guns are required and you just have to bite the bullet and go sherpa-style.
Advantage of using two speedlights instead of one
Although you can mount one or two speedlights on these brackets I tend to always use two, irrespective of how much power I need. At first glance this might make sense only if I need to squeeze as much power out of my speedlights as possible, but considering that recycle times are almost instantaneous when at 1/2 power for example, this increases the speed at which you can shoot, saves your batteries and is much less likely to overheat your flashes. Having two flashes at 1/2 power is equal to one flash at full power, two at 1/4 power is the same as one at 1/2 power, and so on. Obviously power settings vary depending on the situation but very rarely do I find myself blasting both speedlights at full power.
Build
Right off the bat, let me say that the LumoPro Double Flash Bracket is pro-grade. It's built of a solid metal alloy and made up of a universal softbox speedring and an adapter to which the two extending arms are attached via thumbscrews. The arms can extend to allow for varying speedlight sizes and have a cold shoe on each arm. Adjustments are easily made thanks to the platform's aligning guides and thumbscrews. The section of the arms that house the adjustable cold shoes has rubber pads, which really helps with holding your flashes securely in place.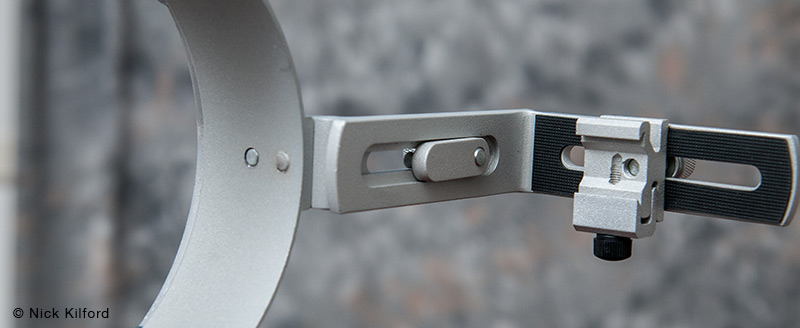 Although I don't own radio triggers that allow for speedlights to be mounted directly via an integrated hotshoe (like the pocketWizard Flex TT5), the arms should be long enough to accommodate both them and your flashes. I use PocketWizard Plus IIs so I don't have to worry about this.
The speedring features 10 sockets allowing for several different brands of softboxes to be used.
A recess in the cold shoe is designed to make it impossible for you to short circuit your flash, which is a well thought out detail since it's an all metal design. No electrical tape needed to keep your flash safe from getting fried.
Setup
I usually have my LumoPro Double flash brackets mounted to two small softboxes and as such setting things up is fast. When going on location I will just throw the small softboxes in my car with the brackets already mounted. If I'm planning on using my 140cm softbox of course I'll have to assemble it on site, which as expected takes a bit longer.
The LumoPro LP739 Double Flash bracket comes in a nice carry bag with enough space for other gear like your radio triggers or even a couple of speedlights (if smartly packed).
To sum it up, the LumoPro Double Flash Bracket is a nifty little tool at a reasonable price that will allow you to not only take full advantage of the softboxes you may already own but also gives you more options when it comes to preparing for a shoot.
I can't think of any downsides to owning these brackets since they allow the seasoned pro to make use of most, if not all of their softboxes/octaboxes with speedlights but also allows for traveling light when a lot of power isn't needed. For beginners or semi-pros that only own speedlights but want the light shaping capability only studio modifiers can offer without wanting to drop some serious cash on studio strobes, these brackets are worth taking a look at, considering their $55 price tag.
If you have any questions or would like to share your thoughts or experiences, please leave them down below.
Thanks!