Man, do I wish the LumoPro LP180 flashes were available back in 2006. Since I'm a manual flash guy and don't need all the bells and whistles my Nikon SB-800s offer, I would have saved some serious dough. Then again, maybe it wouldn't have made much of a difference because back then I didn't know what I didn't need.
I'm a big fan of speedlights for their small size, light weight and flexibility and have used them extensively over the years.
The LumoPro LP180 is a very easy to use, rugged and dependable manual flash. If TTL, High Speed Sync and all the big brand black magic isn't something you care about, but need a flash that won't let you down, then adding an LP180 (or several) to your Christmas list might be in order.
Let's take a look.
Construction
You can tell by the quality of the materials and design that you're holding some serious equipment and could be easily fooled into believing it was manufactured by a big brand name. Obviously time will tell, but since the LP180 is built like a tank, withstanding daily professional use shouldn't be an issue.
This puppy comes with a two year warranty. Yeah, that's right. I can totally see you right now, scratching your imaginary goatee and saying to yourself… "but that's double of what Nikon and Canon offer"! You betcha and that's more than most other brands. This alone is a pretty good indicator that you're not dealing with a turd.
A couple of details I was impressed with:
Mounting foot
I've already mentioned that the LP180 is extremely well built and this quality trickles down into ever little detail. The mounting foot mechanism on this flash is robust and has a rubber molded gasket that clamps down onto your camera hotshoe or off-camera cold shoe, via a beefy locking lever. Unlike my SB-800s, that equates to zero wobble while on a stand shooting into an umbrella or softbox outside. I get nervous when there's play between my flashes' mounting foot and an off-camera cold shoe, so this keeps my twitches under control. (See my LumoPro Double Flash bracket review).
Battery door
The battery door on the LP180 is spring loaded, lays flat to the outer casing and is not removable which, when compared to my SB-800s that have a flimsy and removable battery door, is awesome. I know there is a valid reason for the Nikon's removable door (to add an extra AA battery with the SD-800 Holder) but since I have no use for it, I like the fact that it has a proper battery door. A sucker for details!? Yep, guilty as charged!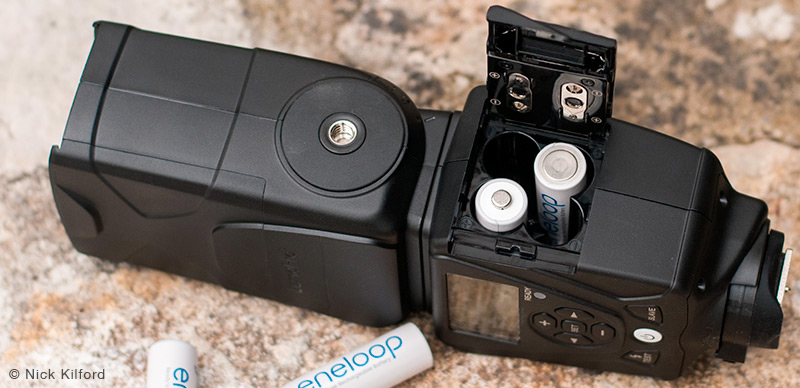 Features
Extra Mount
Ever seen a 1/4″ 20 mount on a flash head that allows you to horizontally screw the flash directly onto a swivel and fire on-axis directly into an umbrella? No? Me neither, until the LP180 was born. Actually you can screw it on to anything that has a standard 1/4″ 20 bolt.
Flash Head Rotation
The flash head turns 360 degrees, 180 each way. Most flashes only turn 180 one way + 90 the other. At first glance this might not sound like much until you have your flash mounted on a 10 foot stand or clamped near the ceiling ready to Rock n' Roll and realize you're 90 degrees short of your needed orientation, either because your optical slave is pointing in the wrong direction and the flash isn't firing or because you don't have easy access to the controls. Believe me, I've been there.
Built-in Gel Holder
That's right, two notches molded into the flash head itself will hold your colored gels.
Mine came with color correction, color effects gels and two neutral density filters.
I was expecting these gels to slide in nicely but they are actually bigger than the flash head. You can get them in but they will bulge out (apparently this is by design). It works well if your flash is on a light stand indoors but you might need to tape it to the flash head if you're outdoors and it's breezy. After my half CTO went flying into the sunset on one occasion, that's what I had to do.
Sync
The LP180 is a quad sync flash that will allow syncing via optical slave, hotshoe and PC sync socket and 1/8″ mono plug for radio triggers.
The LP180 can be used in conjunction with Nikon's CLS or other TTL systems insofar as it can be configured to ignore from 1-10 pre-flashes before firing. Some experimentation might be needed for this to work with your particular setup, but it's perfectly doable. Obviously the LP180 will always fire in manual even when the rest of your CLS flashes are in TTL mode. What this feature allows is for the LumoPro to fire at the right time without being duped by the pre-flashes of your TTL units.
Interface
Without all the features of so called full featured flashes, navigating the LP180 is super simple. The + and – sign do what you would expect, increase or decrease power output in 1/3 stop increments. Left and right arrows cover your zoom options: 24mm – 105mm and right down to 14mm with the wide angle diffuser in place. Backlight illumination, beep and sleep are controlled with Set (long press) and arrows. The Slave button uses the same principal, long press then + and – to cycle through the options. 100% grandma friendly.
Power and Recycle Times
When it comes to power the LP180 is no weakling. I compared it side by side with one of my Nikon SB-800s, both with freshly charged Eneloop batteries (best ones on the market, in my opinion) on full power and output was practically the same, the LP180 coming out marginally on top with an extra 0.2 stops of light, according to my light meter.
Although Lumopro states 4 second recycle times @ full power, I'm getting consistent 2 second recycle times out of the LP180 (sometimes even less) while the SB-800 gives me 3. Your mileage may vary depending on the batteries you use.
Color consistency
I don't have the equipment to scientifically test color consistency and to be honest I don't care about comparing numbers. When it comes to color temperature variations from my flashes, if I can't see any significant shifts between images, I'm a happy camper. The shoots I've already used the LP180 with have been very consistent, maybe a couple of hundred degrees Kelvin shifts on occasion. In my book, that's excellent.
What I don't like about the LP180
This is gonna be short.
— "Ready" beep is ridiculous. I can barely hear it indoors and rarely hear it outdoors. Maybe this can be fixed with a firmware update, dunno.
What I love about the LP180
— Super easy to use interface
— 1/4 20 mounting thread on the side
— powerful output
— fast recycle times
— excellent construction and materials
— design (yeah it's sexy)
— price ($149,99 at the time of this writing)
— 2 year warranty
— external power connector
— USB connector for firmware updates
— hotshoe locking system
— 360 degree head rotation
— included gels (from Rosco)
Alternatives
There are alternatives to the LP180 out there, like the dirt cheap Neewer TT560 ($35) and the Yongnuo YN460 II ($60) but the quality just isn't comparable. However, these brands might be an option if you are a complete beginner on a tight budget and want to take a few snaps of your pet tortoise on the weekends though.
Who is the LP180 for?
Anyone in need of an excellent quality, reliable, top-shelf manual flash at a great price. I would say that pro and semi-pro photographers are the target market, but anyone that would rather get good quality right out of the gate instead of the second or third time round, is gonna be getting one of these beauties.
Conclusion
I love the LP180 and if I was a first time buyer today, I would completely forego Nikon flashes and get four LumoPro LP180s and save north of 1000 bucks.
For a manual speedlight with this quality and build, backed by a 2 year warranty, this is a cheap flash and there is no better, in my opinion. Great value, great performance, great reliability… all the right boxes are checked!
I hope you found this review helpful and if you have any questions or would like to share your off-camera lighting experience please leave your thoughts down in the comments.
Save