I come across the question "how to learn about photography?" quite often and more times than not, the answer boils down to explaining what aperture, shutter speed and ISO are, the relationship between them and how they consequently determine exposure. While this approach is not wrong, I believe, since light is the raw material of photography, that learning about the basic characteristics of light and how it behaves first, would place the when-I-grow-up-I-wanna-be-a-photographer crowd in a good position not only for merely improving their pictures but for becoming a better photographer too.
Now, before I move on, let me say that simply being knowledgeable about light doesn't make you Greg Heisler overnight. Like baking a cake, just having all the ingredients won´t guarantee a mouth watering finished product, unless you know the right amounts of each, the order in which they are added, what tools to use, baking times etc. Light is just one of the ingredients of photography, albeit an indispensable one and being able to describe it will set you up nicely for being able to control it.
So without further delay, here are the main characteristics of light:
Brightness
For amateur and pro photographers alike, brightness has to rank #1 for the most important quality of light. In the absence of brightness (a.k.a darkness) it is impossible for a picture to come into existence. What if there is too much light?, you may ask. Have no fear, aperture is here! (well, so is shutter speed and ISO). When there is an abundance of light the photographer has means of controlling it's quantity through aperture, shutter speed and ISO settings on the camera (which I won't go into here).
Color
Lights can be almost any color or any combination of them and can truly turn a scene into a feast for the eyes. Having said that, the vast majority of images are made with white light… but all white light is not made equal.
When we have an equal (or approximate) mix of the three primary colors Red, Green and Blue or RGB, for example R=256, G=256 and B=256, the light produced is perceived as white. Unequal mixes of these RGB values will produce other colors. Depending on how unequal these values are, resulting colors can range from very distinct hues, like orange or purple, to variations of so called white light. To label color differences in white light, the means to measure it is called the color temperature scale that has Degrees Kelvin as it's measurement unit.
As a reference, 5500°K is called daylight. This means that a light source at this temperature is supposed to produce white without any shifts towards cooler colors (blue, ex: 8000°K) or warmer colors like reds and yellows (ex: 3200°K). In other words daylight is considered as being the purist of whites which, most of the time, is desirable. Digital cameras allow us to control variations in white light via White Balance settings that automatically corrects the color temperature in a scene to mimic that of daylight.
Contrast
The third characteristic of light, in a photographic context, is contrast. A light is said to have high contrast when the range of tones between pure black and pure white is small. This is achieved when the rays from a light source reach the subject at roughly the same angle, resulting in abrupt transitions from highlight to shadow. An additional clue indicating you are in the presence of a high contrast scene is the shadow cast by the subject. It's edge will be hard and defined. High contrast light sources are also known as hard lights. As an example, take a look at the sketch below (please forgive my pre-schooler drawing skills).
As opposed to bad-ass high contrast light, which is very in your face and directional (reaching the subject from the same angle, remember?!) low contrast light on the other hand is soft, meaning that the light striking your subject is coming in from multiple directions. A classic example of low-contrast light is an overcast day. What's happening? Well, the sunlight before reaching Earth is scattered when it hits the clouds exiting them in all directions, turning a very directional light (before it reaches the clouds) into a very multi-directional or soft light source (when exiting the clouds). Since the subject is getting hit from several directions the resulting shadows will be soft edged because they are being partially lit by this scattered source. Light sources that create soft and undefined shadows are also called soft lights.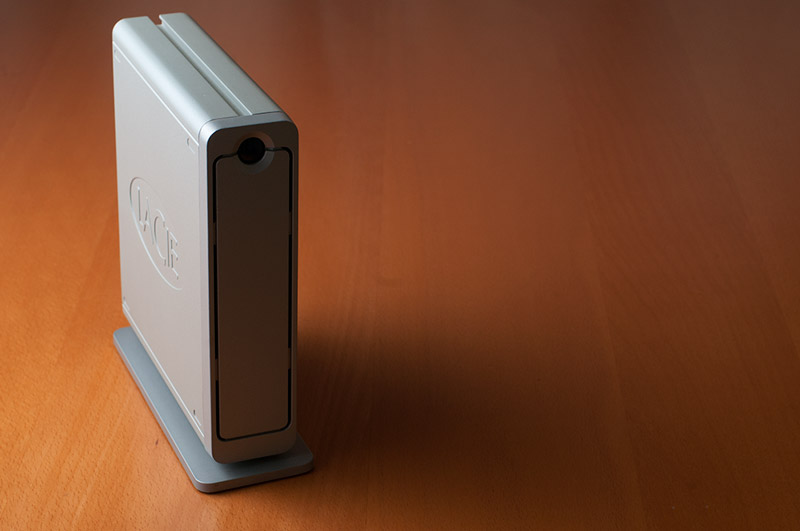 Size matters
When it comes to contrast, the size of the light source is it's primary determining factor. Quick quiz: is the sun on a cloudless day a big or a small light source?
If you said big, I'm sorry, but you're wrong. Although the Sun is many times larger than planet Earth it is sooooo far away that it's effective size is actually very small, making it a small light source, thus a hard one. In photography, the physical size of a light source doesn't always equate to it's effective size!
How about a 24″x24″ light source, 2 feet away from a 5″ subject?
That's right! It's a big light source! Note that not only does distance help determine the effective size but so does the relationship between the effective size of the light source and the size of the subject.
To understand effective size, here is an example: a small light source (like a hot-shoe flash) fired directly at a human subject has an effective size of roughly 2,5″x1″. A really small source in relation to it's subject, therefor a hard light. But by turning the flash around and firing it into a 8'x10′ white wall, the effective size of the source is now huge (because it is bouncing off of a large surface), making it a soft light.
Photographers have many accessories (a.k.a modifiers) at their disposal to help them control how their lights behave.
Subject matters
Up until now we have talked about the main characteristics of light. We have touched on the subject of lighting but mostly on how it affects the shadows, helping us identify hard and soft light sources. Highlight is the area of the image that is being lit.
Lighting is more than just light though. The exact same light source striking two physically different surfaces can produce significantly different highlights. In other words, the subject is one of the determining factors in how the highlight will look. The relationship between the light, the subject and the viewer is at the heart of Lighting.
The photographic subject can transmit, absorb or reflect photons (light particles).
Transmission
Light that is transmitted passes through the subject. An example of a material that transmits light is clear glass. When light strikes a transparent object like glass at an angle perpendicular to it's surface it will travel in a straight line.
When striking at any other angle a phenomena called refraction occurs, which is the bending of the light rays, due to having their speed reduced when entering a denser material. This is why items seen through certain transparent objects may appear distorted.
As opposed to direct transmission, that we just talked about, diffuse transmission happens when the light passing through materials such as white glass, white acrylic or a thin white cotton sheet, scatter light rays in multiple directions (like the clouds mentioned earlier in this post). These materials are also called translucent and are characterized by diffusing light (softening) while transparent materials do not. Putting a translucent material between your light source and your subject will increase it's size and consequently soften it. As opposed to transparent materials that only transmit (and can reflect) light, translucent materials transmit, absorb and reflect light in varying quantities.
Absorption
When light is absorbed by the subject it becomes invisible. It still exists as energy but is usually released (by the subject) as heat (invisible). Ever worn black clothing out in the sun? Talk about an outdoor sauna! That's because that black Iron Maiden Tee you were wearing was suckin' up all those juicy photons!
Dark subjects like black velvet are the most difficult subjects to photograph because they absorb light like a sponge. Most subjects absorb only part of the light reaching them and is, for this reason, why we perceive objects as black, white or some in-between gray. Different subjects will absorb certain light frequencies more than others, which in turn determines their color.
Reflection
Light reaching a subject and bouncing off it is called reflection. This phenomena is what makes vision possible. A world without reflection would mean a world without light. We do not see objects per se, we see light that is bouncing off them, thus revealing their shape, their texture, their beauty.
Well, these are just the basic characteristics of light and some theory on it's behaviors which, in my opinion, should be one of the first things to understand when learning about photography. I do encourage you to grab your camera, go out and experiment, keeping in mind these basic principals.
I'd love to hear your questions, opinions and/or experiences so please leave them down below.
Thanks!
Stay tuned!